Grace Wolf-Chase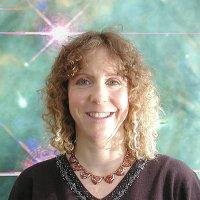 Comments about recent presentations:
"Passionate about her subject, dedicated to the task of increasing science literacy, arousing tangible enthusiasm in her audience -- these are things that come to mind immediately when thinking of Grace Wolf Chase as a speaker. Not only does she bring the early stages of star formation home to people's minds, she convincingly elucidates the potential and the limits of science in interdisciplinary discourse."
Rt. Rev. Dr. Antje JackelÚn
Bishop of Lund
Church of Sweden
"Dr. Grace Wolf-Chase is an energetic and captivating speaker who will leave audience members sitting on the edge of their chairs waiting for the next part of her story. Her lectures on life on other planets, studies of planets in other solar systems, and basic astronomy are fascinating and provocative, always leaving the audience intrigued and ready for more!! She speaks well to broad and specialized audiences alike and has a talent for making complex stories understandable in a short time-frame."
Professor Gayle E. Woloschak
Departments of Radiation Oncology, Radiology, and Cell and Molecular Biology
Robert E. Lurie Comprehensive Cancer Center
Feinberg School of Medicine
Chicago, IL
"Grace Wolf-Chase spoke to a combined audience from our Temple, St, Mary's Catholic Church, and Beth-El Lutheran Church about the convergence of science and religion. Her visual presentation made complicated issues easier to understand, and her grasp of both the science and the principles of religious belief made her perspective most intriguing. We have already spoken with Dr. Wolf-Chase about returning to speak again."
Rabbi Stanley Halpern
Temple Israel
Gary, IN
"Dr. Grace Wolf-Chase speaks with charm, with thorough understanding of her subject, and with a teacher's skill. She is always worth hearing."
Dr. Christopher Corbally
Vice Director
Vatican Observatory
"Dr. Grace Wolf-Chase takes her audience through a well-prepared and skillfully delivered lecture, studded with beautiful visuals of the universe. Grace's passion for her work is remarkable and adds great energy to an already powerful presentation. With her skills, extensive knowledge and warm personality, she will go far in tearing down the barriers that exist between religion and science. At the Center for Faith Studies at Countryside Community Church, we now refer to Dr. Wolf-Chase as "Amazing Grace," and look forward to working with her again."
Cyndi Kugler, Director
Center for Faith Studies
Countryside Community United Church of Christ
Omaha, NE