Carl Ameringer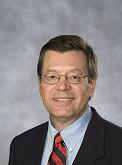 Carl Ameringer, professor of health policy and politics at Virginia Commonwealth University in Richmond, Virginia, is an expert on issues surrounding our national debate on health care reform.
During the course of his twenty-plus years in the health policy arena, he has advised governors, state legislatures and state agencies on issues ranging from universal health care to emergency department violence. He has served on working groups and task forces in Maryland, Wisconsin, and Virginia; and he has addressed professional organizations, federal agencies, and citizen's groups, including the Federation of State Medical Boards, the Federal Trade Commission, and the Wisconsin Humanities Council.
Dr. Ameringer holds a Ph.D. in political science from The Johns Hopkins University and a J.D. from The University of Virginia. He is the author of several books and articles, including State Medical Boards and the Politics of Public Protection (1999) (Johns Hopkins University Press) and The Health Care Revolution: From Medical Monopoly to Market Competition (2008) (University of California Press).
From 1987 to 1992, he served the State of Maryland in the capacity of assistant attorney general and deputy counsel to the Maryland health department.
Carl Ameringer will speak on the following topics:
The Three Biggest Fallacies about Health Care Reform
Universal Access, Not Universal Insurance
What's Up, Doc? The Trials and Tribulations of Health Care Delivery